About
A Texas Law Firm Committed To Excellence
De La Garza Law Firm Fights Tenaciously For Our Clients
Mr. Rafael De La Garza, was raised by a hard-working family who continually emphasized the importance and value of education. Understanding very early in life that education would be essential to his success, Rafael was motivated to take advantage of every learning opportunity given to him.
Dedicated to his dream of obtaining a college education, Rafael worked diligently in order to attend Baylor University, where he would earn his Bachelor of Mathematics – within just three years. After obtaining his undergraduate degree, Rafael proceeded to study law at the University of Houston Law Center. Within two and a half years, Rafael would secure his Doctorate of Jurisprudence.
It was during this time at law school that he would begin to venture professionally into the world of law. Rafael would come to work at a prominent personal injury law firm, developing his skills serving victims of car and trucking accidents, refinery explosions, workplace injuries, and other personal injury cases.
After graduating from law school, Rafael moved on to working for a civil litigation firm in South Texas during which time he continued to sharpen his skillset.
Rafael would finally come to establish his own firm in 2012, as a McAllen personal injury attorney, he focuses on helping victims of 18 wheeler and auto accidents, workplace accidents, negligent funeral home and cemetery cases, premises cases due to criminal activity, slip and fall accidents, and product liability cases.
It is Rafael's desire to provide a bit of hope and financial remedy for those suffering through troubling times.
Rafael De La Garza: A Distinguished And Experienced Attorney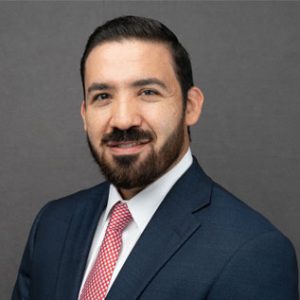 Mr. Rafael De La Garza is admitted to practice in Texas, the U.S. District Court, the Southern District of Texas, and in the United States Court of Appeals for the Fifth Circuit. He is a distinguished member of the State Bar of Texas, the Texas Trial Lawyers Association, and the American Bar Association.
Rafael is also fluent in English and Spanish, allowing him to serve all members of the Rio Grande Valley community.
Personal injury victims can feel reassured that their claims are being handled with great care and due diligence when they choose De La Garza Law Firm.
Rafael knows that a personal injury accident can weigh heavy on the lives of victims, bringing about much physical, mental, and emotional pain.
You do not – and should not – have to bear this hardship alone. Victims deserve an attorney that honestly cares about their best interests and who will deliver the results they need when it matters most. At De La Garza Law Firm, you will find the attention, integrity, and experience you deserve.
If you are in need of a distinguished and well-equipped legal counsel that can deliver maximum results in your personal injury case, look no further. The De La Garza Law Firm pursues justice through ethical and efficient means to recover maximum results time and again.
The Skills and Experience Necessary To Handle Your Personal Injury Case
At De La Garza Law Firm, we have successfully assisted victims all throughout Texas and the Rio Grande Valley in seeking justice and financial recovery for the following types of cases:
Funeral and Cemetery Negligence
Stairway Collapse
Elevator/Escalator Injuries
Swimming Pool Drownings
Victims of Crimes as a Result of:
Inadequate Security in Commercial Buildings and Businesses
Assaults in Hotels, Condos, and Apartments
Sexual Assaults in Apartments and Condos
Sexual Assaults in Hotels
Car Accidents
Bicycle Accidents
Pedestrian Accidents
Product Liability
Find comfort in knowing that at De La Garza Law Firm, we are NOT a personal injury settlement mill and are not afraid to go to trial if necessary. When you seek help from De La Garza Law Firm, you can expect to receive:
Individualized attention.
Thorough and diligent investigation of your claim.
Skillful negotiation to maximize settlements.
Adequate support handling difficult defendants and their insurance companies.
Experience and strength in trial.
Open communication.
Bilingual services: English and Spanish
If you have been injured by the negligence or intentional actions of another party, do NOT hesitate to contact De La Garza Law Firm right now!
Although the circumstances of each personal injury case are unique, our commitment to helping victims of negligence seek justice and recovered compensation does not falter. If you or a loved one have been harmed by the acts of another individual, know that there is a light at the end of the tunnel.
Call (956) 533-1426 now for a consultation with our dedicated attorney.